What are the keys to building a growing church?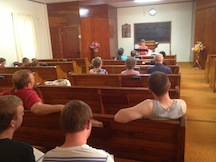 Every stable family unit provides three things for all of its members.  The church family needs these elements as well.  Let's look at them together.
1.  Security
There is no greater feeling of security than when we know that our relationship with the head of the family is secure. Consider these passages.
1 John 5:13-14
 "I write these things to you who believe in the name of the Son of God so that you may know that you have eternal life.  This is the confidence we have in approaching God:  that if we ask anything according to his will, he hears us."
1 John 1:7
"But if we walk in the light, as he is in the light, we have fellowship with one another, and the blood of Jesus, his Son, purifies us from all sin."
John 14:27 
"Peace I leave with you; my peace I give you.  I do not give to you as the world gives.  Do not let your hearts be troubled and do not be afraid."
My three-year-old son, Gabriel, occasionally cries out in the night because he is afraid of the dark.  To put him back to sleep, I often crawl in bed next to him.  Shortly, after lying down, he will scoot his tiny bottom up against my chest and whimper, "Hold me, Daddy!"  Glowing inside with love, I pull his warm little body over next to me.  Soon he is fast asleep, confident in knowing that Dad has him all wrapped up in loving arms of security.
Stability is compromised when members of the family feel insecure about their relationship with each other and especially with God.  Strive to build security by identifying insecurities within the membership.  Encourage them to study, pray and look after the needs of others.  By following the pattern of the First Century Christians, they will draw closer to other family members and thus satisfy their own need for security.
2.  Discipline
Stable family units also provide loving discipline for each member.  Congregations that wish to grow need to realize that church discipline is far more than disfellowshipping an unrepentant member.  Webster defines discipline as "Mental and moral training."  Every time we interact with one another, we are, to one degree or another, providing or accepting mental and moral training.  Church discipline should be seen as a common, everyday practice by which each member of the family can benefit.
Discipline is not only an important part of creating stability, it is a necessary element of God's plan for a growing church.
Occasionally, however, conflicts arise within the body that require a more direct form of discipline.  Knowing situations like this would occur, Jesus left a step-by-step procedure to resolve such problems.  Notice Matthew 18.
Matthew 18:15-17 "If your brother sins against you, go and show him his fault, just between the two of you.  If he listens to you, you have won your brother over.  But if he will not listen, take one or two others along, so that every matter may be established by the testimony of two or three witnesses.  If he refuses to listen to them, tell it to the church; and if he refuses to listen even to the church, treat him as you would a pagan or a tax collector."
Discipline is not only an important part of creating stability, it is a necessary element of God's plan for a growing church.  Whether discipline takes the form of mental and moral training done in passing, or takes the more direct form of Christ's four-step approach, it is necessary in order to keep the church stable.  If the "Jeremiah Generation" can help the church see discipline as a positive service we do for each other, stability will inevitably be the result.
3.  Sincere Love
1 John 4:7-8 
"Dear friends, let us love one another, for love comes from God.  Everyone who loves has been born of God and knows God.  Whoever does not love does not know God, because God is love."
1 John 4:20-21
"If anyone says, 'I love God,' yet hates his brother, he is a liar.  For anyone who does not love his brother, whom he has seen, cannot love God, whom he has not seen.  And he has given us this command:  Whoever loves God must also love his brother...."
While looking through a photo album, a teenage girl came across a picture of her tall grandmother standing next to her grandfather who was over five inches shorter.  Thinking the couple looked funny together, the teenager asked, "Grandma, how could you have fallen in love with a man so much shorter than you?"  "Easy!" said the elderly woman.  "We fell in love while sitting down and when we stood up, it was too late."
Sincere love looks upon the hearts of individuals.  It judges them not by their height, social level or even spiritual condition.  Sincere love sees all men through eyes tinted by the blood of Christ.
Keys for a Growing Church
1. Security

2. Discipline

3. Sincere Love


Jesus says in John 13:34-35 that our love for each other will be a billboard to the world. It will tell the world that we have been with Christ and we are students of His Word.  The dual benefits of sincere love are stability within and an effective attraction for those without.
In order for the church to return to the days of extraordinary growth, family stability must be maintained.  Stability is achieved by providing each member with generous doses of security, discipline and sincere love.  These topics should be preached from the pulpit, studied in the classroom and, perhaps most important of all, endorsed by the leadership.  
Still got questions? Take a look at the closing chapters of the book "These are the Days of Jeremiah" by Sonny Childs
Back to Top of "What are the keys to building a growing church?"
Back to The Church Page
Back to Home Page