Got Water?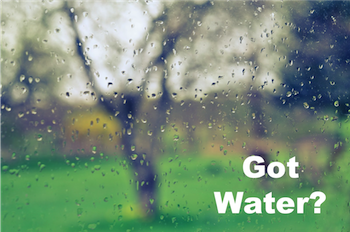 Well, how's the weather in your part of the country? Here in northeast Arkansas the rain keeps falling. Daily flood watch alerts are commonplace and I'm thinking about building a big boat. It's wet!!
All this rain being sandwiched between THANKSgiving and CHRISTmas has got me thinking about the power of God and the innocence of children. Years ago I wrote a little book entitled, "My God Is So Big!" It contains some of my favorite stories of faith and is a perfect read on a cold rainy day. Below is one of those stories and a devotional to match. Why not grab a big blanket, pull the family together and use this reading to focus everyone on the reason for the season?
The Flood

During the spring of 1989, flood waters destroyed many homes and took several lives in the area where I was living. It was during this difficult time that I heard this true story about one child's great faith.

The rain continued to pour from the sky in endless streams of water. The ground was so saturated from countless days of flooding that the water had nowhere to go. It gathered in large pools until the natural cups could no longer hold their contents and would pour over the banks and rush toward lower ground.

A mother and three small children were trying to escape the flood when they found themselves caught in one of those angry streams of rushing water. In the mother's arms were the two smallest children and another clung to her hand while trying to walk beside her. The water continued to rise and the struggle to walk became more and more difficult. 

At one point, the water was so deep and the current was rushing by so fast that the oldest child could barely keep her face above the murky waves. Seeing the danger all around her, the mother began to panic. She knew that for her to help one daughter meant possibly losing another. With urgent concern, the mother looked down. At the same time, another murky wave pulled at the little girl's body and she glanced up to see panic in her mother's eyes. Her grip tightened and she forced herself to stand a little taller. "Don't worry, Mommy," she declared with the confidence of a childlike faith. "It's gonna be okay. I'm prayin' to Jesus."

Family Devotional Time

Matthew 18:4-6, 10

"...whoever humbles himself like this child is the greatest in the kingdom of heaven. And whoever welcomes a little child like this in my name welcomes me. But if anyone causes one of these little ones who believes in me to sin, it would be better for him to have a large millstone hung around his neck and to be drowned in the depths of the sea. (Vs. 10) See that you do not look down on one of these little ones. For I tell you that their angels in heaven always see the face of my Father in heaven."

 Why does Jesus love children so much? Why does He give such an awful penalty to anyone who would cause a child to sin? What lessons do children teach us about faith? What do you think Jesus meant by His words in verse 10? Discuss why verse 10 should give children comfort in these difficult times.
Yep, it's wet! But don't let the soggy conditions outside put a damper on the cozy conditions inside. The love of God is the reason for the season. Make it real!
Back to Top of "Got Water?"
Back to The Family Page
Back to Home Page