Apocalypse Approaching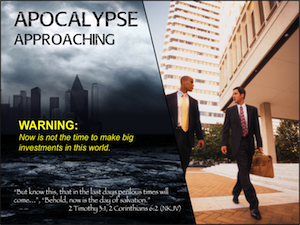 End time theories are abundant and conflicting. But one thing is certain, before that great apocalyptic day of our Lord, Christians will endure a persecution that will separate the passionate from the passive. That sifting has begun.
1 Peter 4:12, 17 (NIV)"Dear friends, do not be surprised at the fiery ordeal that has come on you to test you, as though something strange were happening to you … For it is time for judgment to begin with God's household; and if it begins with us, what will the outcome be for those who do not obey the gospel of God?"

Please read the important instructions below, then be sure to click on the picture at the right.

3 Things Every Person Must Do To Prepare for the Approaching Apocalypse
 
1. Be a Christian!

2 Thessalonians 1:7-8 (NKJV) "Jesus is revealed from heaven with His mighty angels, in flaming fire taking vengeance on those who do not know God, and on those who do not obey the gospel of our Lord Jesus Christ."
In the last days, many religious leaders will teach human doctrines that will draw the masses away into false assurance. Do not trust them! Know how to detect a false teacher. (Click here for more information.)
 
God authored and preserved His book for a reason. Read it. Compare all teachings to it. Trust only it. (Click here for more information on what the Bible says about becoming a Christian.)
2. Be a Disciplined Christian! 
1 Corinthians 9:27 (NKJV)"I discipline my body and bring it into subjection, lest, when I have preached to others, I myself should become disqualified."

Becoming a Christian is not enough. Even the apostle Paul believed he could lose his spiritual focus and thereby "become disqualified." Christ demands a life of passionate self-discipline. "But the fruit of the Spirit is … self- control." (Galatians 5:22, NKJV)
 
In order to receive God's blessing, Christians must do more than just go to church. They must be totally sold out to Christ! They must take up their cross and follow Him. Only a life of complete submission will capture the attention and favor of the Lord. During these days of great potential loss, nothing is more important than having God's favor. Consider this quote:

"There are really only three types of people in this world:  
1. Those with no loyalty to God.  
2. Those with total loyalty to God.  
3. Those who are only loyal as long as it doesn't cost them their worldly toys, their sexual preferences, their busy schedules, or any of their other selfish priorities. Like a fair weather friend, they only want God around when His presence is convenient for them."

In these last days it is very important that you not allow false teachers to lull you into a state of spiritual laziness. It is possible to lose your salvation. It is possible to lose focus and drift away. Read Hebrews 2:1. (Click here for more information on how you can live within the blessed assurance of God.)


Three Ways to Prepare for the
Approaching Apocalypse:
1. Be a Christian!
2. Be a Disciplined Christian!
3. Be a Disciplined Christian on High Alert!
3. Be a Disciplined Christian On High Alert!

1 Thessalonians 5:2-6 (NKJV) "For you yourselves know perfectly that the day of the Lord so comes as a thief in the night. For when they say, 'Peace and safety!' then sudden destruction comes upon them, as labor pains upon a pregnant woman. And they shall not escape. But you, brethren, are not in darkness, so that this Day should overtake you as a thief. You are all sons of light and sons of the day. We are not of the night nor of darkness. Therefore let us not sleep, as others do, but let us watch and be sober."

The Lord is not coming for those who are distracted or anchored to this world. He is only coming for those who are watching, waiting and anticipating His return. Read again the parable of the foolish virgins - Matthew 25:1-13.

Ever since the first century, the church has been on alert, but given the signs of the present age, I believe the church has now been placed on high alert. Notice these words, "Let us hold fast the confession of our hope without wavering, for He who promised is faithful. And let us consider one another in order to stir up love and good works, not forsaking the assembling of ourselves together, as is the manner of some, but exhorting one another, and so much the more as you see the Day approaching." (Hebrews 10:23-25, NKJV) The closer the "Day", the more attention we must pay! (Click here for more information about our call to be on high alert.) (Note: This is a book which can be purchased through PayPal.)
Who can deny it? Look around you! Watch the news! Observe people at the mall! The world is falling apart. A deep chasm of darkness is pulling us ever closer to the edge. Only a fool would walk away from this warning without making radical preparations for the approaching apocalypse. Don't be that fool. Read the articles connected to this page. Gather your family to you. Implement the plan laid out above. Keep your eyes fixed on the heavens. He is coming. Be ready. The night could get very dark before He arrives, but He IS coming!
Back to Top of "Apocalypse Approaching"
Back to Country Page
Back to Home Page