Questions for Calvin: I is for Irresistible Grace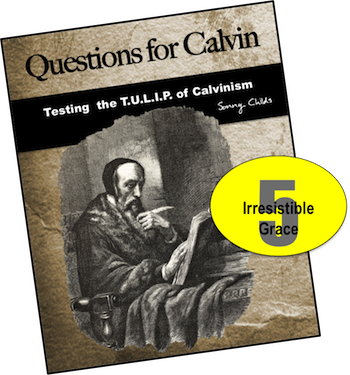 Note: T.U.L.I.P. is an acronym often used to summarize the five core doctrines of Calvin, Total Depravity, Unconditional Election, Limited Atonement, Irresistible Grace, and Perseverance of the Saints.
In the Words of Calvin:

John Calvin (Institutes 2.4.14; Calvin 1960:308)
"There Augustine first teaches: the human will does not obtain grace by freedom, but obtains freedom by grace; when the feeling of delight has been imparted through the same grace, the human will is formed to endure; it is strengthened with unconquerable fortitude; controlled by grace, it never will perish, but, if grace forsake it, it will straightway fall…."
Calvin believed and taught that grace was not chosen but rather assigned by God without our freewill. In other words, salvation is not an option for everyone. It does not come because a person chooses to seek God, it comes because a person is assigned that condition without their choice.
In the Words of God:
James 1:21 (NIV)
"Therefore, get rid of all moral filth and the evil that is so prevalent and humbly accept the word planted in you, which can save you."
Q: If Irresistible Grace means we have no ability to accept salvation by grace, why are we told to "accept" that which "can save" us? Doesn't this verse imply that it is our acceptance of the word that gives the planted word an opportunity to grow into salvation? But why is there a need for our acceptance if grace is irresistible? Why does the last phrase say, "can save you" rather than "will save you"?
A: Please don't misunderstand, James also said, "But he gives us more grace. That is why Scripture says: 'God opposes the proud but shows favor to the humble.'" (James 4:6, NIV) Truly God is the only source of grace and He gives it at His own volition. But don't skip over that last phrase, "shows favor to the humble." Doesn't humility require choice? Was it not that very same word which was used in the previous passage, James 1:21, "humbly accept the word" (NIV)? Only by submitting to the harmony of these passages can the whole counsel of God be truly discovered.
1 Corinthians 15:2 (NIV)
"By this gospel you are saved, if you hold firmly to the word I preached to you. Otherwise, you have believed in vain."
Q: If Irresistible Grace means that grace cannot be resisted, why does the Holy Spirit place a condition on salvation by using the word "if"? Why admonish Christians to "hold firmly" if it is impossible to let go? Why does Paul suggest that it is possible to believe "in vain" if grace is given without our freewill and is, in fact, irresistible?
A: Please don't misunderstand, later in the same context, Paul goes on to make this admission, "But by the grace of God I am what I am, and his grace to me was not without effect. No, I worked harder than all of them —yet not I, but the grace of God that was with me." (1 Corinthians 15:10, NIV) Certainly, Paul understood that grace was the sole power behind his work and it was, therefore, only God Who received the glory. But does this verse imply that Paul was without free will? Read the last two words of this verse again - "with me". Notice the partnership implied by that phrase. God provided the power, but Paul was responsible for making the freewill choice to give Him access to his heart. (See Philippians 2:12-13.) Only by submitting to the harmony of these passages can the whole counsel of God be truly discovered.
Revelation 3:19-21 (NIV)
"Those whom I love I rebuke and discipline. So be earnest and repent. Here I am! I stand at the door and knock. If anyone hears my voice and opens the door, I will come in and eat with that person, and they with me. To the one who is victorious, I will give the right to sit with me on my throne, just as I was victorious and sat down with my Father on his throne."
Q: If Irresistible Grace means the saved have no ability to choose grace, why did Jesus say these words? Why would He "rebuke and discipline" with the words "be earnest and repent" if we can't resist grace? Why use the word "if" if there is no option to resist grace? Why tell us that we need to open the door if we have no choice and grace is irresistible?
A: Please don't misunderstand, the apostle Paul certainly was correct when he said, "For it is by grace you have been saved, through faith —and this is not from yourselves, it is the gift of God— not by works, so that no one can boast." (Ephesians 2:8-9, NIV). But equally true are the words of Jesus (Revelation 3:19-21). We must be "earnest." We must "repent." It is not enough to assume that we are saved just because we hear His voice. Jesus says it is the one who "hears" and "opens the door" that will eat with Him and will be "victorious" in the end. Only by submitting to the harmony of these passages can the whole counsel of God be truly discovered.
Additional Passages for Further Study:
2 Corinthians 6:1-2 (NIV)
"As God's co-workers we urge you not to receive God's grace in vain. For he says, 'In the time of my favor I heard you, and in the day of salvation I helped you.' I tell you, now is the time of God's favor, now is the day of salvation."
Romans 3:24-25 (NIV)
"…all are justified freely by his grace through the redemption that came by Christ Jesus. God presented Christ as a sacrifice of atonement, through the shedding of his blood —to be received by faith."
Romans 5:1 (NIV)
"Therefore, since we have been justified through faith, we have peace with God through our Lord Jesus Christ, through whom we have gained access by faith into this grace in which we now stand."
Galatians 5:4 (NIV)
"You who are trying to be justified by the law have been alienated from Christ; you have fallen away from grace."
Galatians 5:7-8 (NIV)
"You were running a good race. Who cut in on you to keep you from obeying the truth? That kind of persuasion does not come from the one who calls you."
Hebrews 12:15 (NIV)
"See to it that no one falls short of the grace of God and that no bitter root grows up to cause trouble and defile many."
Application: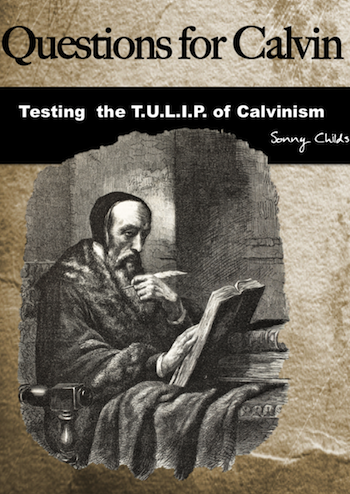 There can be little unity among Christians as long as human doctrines dominate and selective obedience governs hermeneutics (principles for interpreting Scripture). Only by submitting to the whole counsel of God can we correctly handle the word of truth. We must raise our sights higher than the teachings of men.
2 Timothy 2:15, NIV
"Do your best to present yourself to God as one approved, a worker who does not need to be ashamed and who correctly handles the word of truth."
I firmly believe that two of the greatest challenges facing the church today are Islam from without and Calvinism from within. In a world so devoid of personal responsibility, Calvin's doctrine of grace without responsibility is truly alluring. Young people are deserting biblical truth in alarming numbers. These false doctrines have permeated nearly every Christian denomination and must be addressed.

This important material can be covered in a seminar, Gospel meeting or revival format. For more information about this presentation, please visit our "Questions for Calvin" seminar page. This material is also available as an ebook through Amazon, Barnes & Noble and other formats. (Go to the "Books by Sonny" page for links to the other formats.)

Our children are at risk. It is my greatest prayer that you will find this information helpful in defending them against the false teachings of Calvinism.
Missed the first four lessons in this series? Go to:
Questions for Calvin: "Introduction"
                                  "T is for Total Depravity"
                                  "U is for Unconditional Election"
                                  "L is for Limited Atonement"
Want to continue this series? Go to:
Questions for Calvin: "P is for Perseverance of the Saints"
                                   "Conclusion"


Back to Top of "Questions for Calvin"
Back to The Church Page
Back to Home Page