Formula for Assurance: Application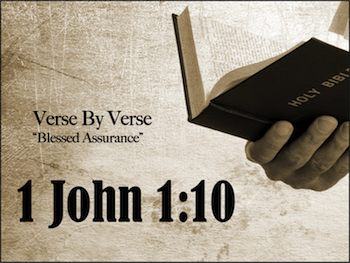 "If we claim we have not sinned, we make him out to be a liar and his word has no place in our lives."
The Third Ingredient - Application
In the previous verses, we learned about the first two ingredients to the formula for assurance - honesty and confession. In verse 10, John gives us the third ingredient - application.
In verse 10, John reminds us of our sinful condition and the blasphemous ramifications of denying that truth, "If we claim we have not sinned, we make him out to be a liar…." 
Perhaps the greatest tragedy of the human experience is not that we selfishly choose to live a life in opposition to the Creator, but that in the process we actually implicate Him of wrongdoing. For the honor of God, we must remain in the light. For the honor of God, we must exhaust ourselves in the work of drawing all men into that light.
Verse 10 concludes with the third ingredient to the formula for assurance, "…his word has no place in our lives." 
Although, at first glance, John's words may seem negative, when we view them as a warning, we understand the third positive step we must take to remain on the path of light. Not only must we be honest about our sinful condition, we must confess that condition, then make a place for "his word…in our lives." It is not enough to conclude we are sinners, or even to admit it, we must also take positive steps to improve upon it. Application of "his word" is essential.
In James 1:22-25, the Holy Spirit uses the following word picture to explain this process. "Do not merely listen to the word, and so deceive yourselves. Do what it says. Anyone who listens to the word but does not do what it says is like a man who looks at his face in a mirror and, after looking at himself, goes away and immediately forgets what he looks like. But the man who looks intently into the perfect law that gives freedom, and continues to do this, not forgetting what he has heard, but doing it - he will be blessed in what he does." 
Honesty and confession are important, but it is only when a Christian commits himself to making positive change that the assurance formula is complete. We must make a place for His word in our lives.
A Cell Phone What?
Like most teenagers, Bryson's bedroom looks like a tornado touched down and never decided to leave. Clothes, books, games, papers, and a thousand other items are randomly scattered everywhere. The journey to his bed can be quite treacherous and one day we fear that he might fall in and never be heard from again.
However, in spite of his chaotic surroundings, there is always one thing he keeps track of - the cell phone. As a homeschooled teenager who travels all across America with this ministry, Bryson keeps connected with friends through endless text messaging and conversations on his phone. It is a definite priority in his life. He keeps it with him at all times, he pays the bill in order to keep the service active, and he even protects it with a cell phone sock! Have you ever heard of such a thing - a cell phone sock?!  This lifeline to his friends is very important to him and there is little question that Bryson has made a place in his life for the phone.
Does your lifeline to the Father mean as much to you as your cell phone? Do you take His Word with you everywhere you go? Can you find it even when the chaos of life swirls around you? Do you honor it and protect it like a treasured possession? Does God's Word have a place in your life?
Keep It In Context
For assurance to be sure, we must let God speak for Himself. We must be true to the inspired context. After each study, read the entire chapter again taking note to the way today's verse relates to all the verses around it. Due to the colorful, complex nature of the original language, the best translation is multiple translations. Following each lesson, this chapter will be presented in a different translation. Below, we have featured Douay-Rheims 1899 American Edition.
1 John 1 (DRA)

That which was from the beginning, which we have heard, which we have seen with our eyes, which we have looked upon, and our hands have handled, of the word of life:
For the life was manifested; and we have seen and do bear witness, and declare unto you the life eternal, which was with the Father, and hath appeared to us:
That which we have seen and have heard, we declare unto you, that you also may have fellowship with us, and our fellowship may be with the Father, and with his Son Jesus Christ.
And these things we write to you, that you may rejoice, and your joy may be full.
And this is the declaration which we have heard from him, and declare unto you: That God is light, and in him there is no darkness.
If we say that we have fellowship with him, and walk in darkness, we lie, and do not the truth.
But if we walk in the light, as he also is in the light, we have fellowship one with another, and the blood of Jesus Christ his Son cleanseth us from all sin.
If we say that we have no sin, we deceive ourselves, and the truth is not in us.
If we confess our sins, he is faithful and just, to forgive us our sins, and to cleanse us from all iniquity.
If we say that we have not sinned, we make him a liar, and his word is not in us.
To conclude this study, go to:
"Blessed Assurance Review"

Missed the first ten parts of this study? Check them out! 
"Blessed Assurance: 1 John 1 Introduction" 
"Jesus - Word of Life: 1 John 1:1"
"Jesus - Eternal Life: 1 John 1:2"
"Fellowship With the Father and the Son: 1 John 1:3"
"Complete Joy: 1 John 1:4"
"God is Light: 1 John 1:5"
"Fellowship with Light: 1 John 1:6"
"Walk In or Out of the Light: 1 John 1:7"
"Formula for Assurance: Honesty"
"Formula for Assurance: Confession"
Back to Top of "Formula for Assurance: Application"
Back to The Church Page
Back to Home Page