Blessed Assurance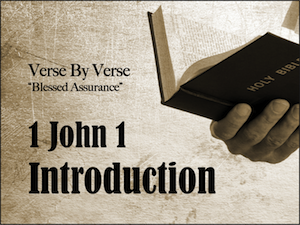 The following series will focus on a detailed study of one of the most hope-filled chapters in all the Bible - 1 John 1.
As the world self-destructs around us, few things are more important than assurance in a right relationship with God. I pray that you will utilize this confidence building study. It is sure to lift your spirits and change the way you face the world.
Introduction
Scholars believe that the book of 1 John was written by the apostle John toward the end of the First Century from the city of Ephesus. At that point in his life, John would have been a very old man, probably approaching 100 years of age. By the time John writes this material, most, if not all, of his closest friends had died. John was arguably the best friend of Jesus, yet, in spite of their intimate relationship, it seems that John was among the last to be reunited with the Lord.
Because of John's long life of suffering, the nearness to the end of his life, and the unique relationship he shared with Christ, John is perfectly qualified to explain the hope that kept him faithful and can give us assurance of our own eternal life.
Many books in the Bible depend upon the reader to do much study before they can understand the central purpose of the writing. Not so with the book of 1 John. It is as if the apostle wanted so badly for his readers to understand the confidence he had in Christ that he removed all mystery from the purpose of his writing. Notice the intent of this book as stated in the author's own words, "I write these things to you who believe in the name of the Son of God so that you may know that you have eternal life." (5:13)

From this important verse, we learn at least three things about eternal assurance:

1. We learn who can have this assurance. The book was written to those "who believe". This book was not written to tell us how to be saved, it was written to tell us how to remain saved. If you are not a Christian, it is vitally important that you make that decision. You cannot keep what you do not have.


The Who, What, and Why About the Blessed Assurance of 1 John
Christians Can Have It
The Source Is Jesus
Written So We Can "Know" We Have Eternal Life
2. We learn the source of a believer's assurance. Confidence can only come to those who have placed their faith "in the name of the Son of God". For assurance to be sure, Jesus must be more than just a great prophet. He must be nothing less than "the Son of God"!
3. We learn why the book was written. By John's own words, we know that the primary purpose of this marvelous book is to give believers total confidence in their salvation. Not guess, not wonder, not worry, we can "know" we have eternal life. Within the first chapter of 1 John, we will learn the ingredients to the blessed assurance formula. John will describe the God/man, Jesus, explain the components of fellowship, and provide a three-question quiz so that we can know if we are walking in the light. If you are a Christian, this study is sure to provide new energy for your daily battles against satan. If you are not a Christian, it is my prayer that this study will draw you into the Savior's embrace.

How much better could you sleep at night if you knew for certain that you were walking in the light? How much better could you function during the day if you had absolute confidence in your salvation? The book of 1 John was written for the very purpose of giving you that blessed assurance. Let's get started!
Keep It In Context
For assurance to be sure, we must let God speak for Himself. We must be true to the inspired context. After each study, read the entire chapter again taking note to the way today's verse relates to all the verses around it. Due to the colorful, complex nature of the original language, the best translation is multiple translations. Following each lesson, this chapter will be presented in a different translation. Below, we have featured the New International Version.
1 John 1 (NIV)
That which was from the beginning, which we have heard, which we have seen with our eyes, which we have looked at and our hands have touched —this we proclaim concerning the Word of life. The life appeared; we have seen it and testify to it, and we proclaim to you the eternal life, which was with the Father and has appeared to us. We proclaim to you what we have seen and heard, so that you also may have fellowship with us. And our fellowship is with the Father and with his Son, Jesus Christ. We write this to make our joy complete.
This is the message we have heard from him and declare to you: God is light; in him there is no darkness at all. If we claim to have fellowship with him and yet walk in the darkness, we lie and do not live out the truth. But if we walk in the light, as he is in the light, we have fellowship with one another, and the blood of Jesus, his Son, purifies us from all sin.

If we claim to be without sin, we deceive ourselves and the truth is not in us. If we confess our sins, he is faithful and just and will forgive us our sins and purify us from all unrighteousness. If we claim we have not sinned, we make him out to be a liar and his word is not in us.
To continue this study, go to: 
"Jesus - Word of Life: 1 John 1:1"
"Jesus - Eternal Life: 1 John 1:2"
"Fellowship With the Father and the Son: 1 John 1:3"
"Complete Joy: 1 John 1:4"
"God is Light: 1 John 1:5"
"Fellowship with Light: 1 John 1:6"
"Walk In or Out of the Light: 1 John 1:7"
"Formula for Assurance (Part 1): Honesty 1 John 1:8"
"Formula for Assurance (Part 2): Confession 1 John 1:9"
"Formula for Assurance (Part 3): Application 1 John 1:10"
"Blessed Assurance Review"
Back to Top of "Blessed Assurance"
Back to The Church Page
Back to Home Page