Jesus - Eternal Life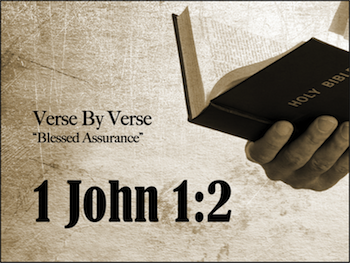 "The life appeared; we have seen it and testify to it, and we proclaim to you the eternal life, which was with the Father and has appeared to us."
Description of Christ
As in the first verse of this book, John here parallels the opening to his Gospel account. John uses the word "life" twice in this second verse as a description of Christ. Notice how he opens his Gospel account. "In him was life, and that life was the light of men." (John 1:4)
Just as John longed for his readers to see Jesus as the tangible Divine communication of God's love (see notes on 1 John 1:1), he also wanted us to see the Christ as a deliverer. He wanted us to understand that Jesus did far more than just communicate God's love, He became the Divine personification of love upon the cross. It was nothing less than the God/man Who gave us "life".
Whenever a biblical writer uses the same term twice within the same context, it is important that we take note. In the first phrase of 1 John 1:2, the apostle tells us that "life" came. In the second use of this term, he tells us that "life" was proclaimed. Because of His coming, our proclamation takes on new importance. No longer is our announcement limited to a coming Savior, we tell of One Who has already been here.
In addition, the second time the word "life" is used, we find that it carries with it the very important modifying word "eternal". Ours is not just a hope for this life, but a confidence in the life to come. Notice the words of John toward the end of this book, "I write these things to you who believe in the name of the Son of God so that you may know that you have eternal life." (5:13) By John's own admission, the very purpose of the book of 1 John is to give us certainty of eternal life through the God/man, Jesus Christ.
Eternal Life to Come
When Gabriel was a small boy, I remember carrying him on my back through the parking lot at Lowe's. The air was frigid and it stung my lungs. Even with gloves, my hands felt the cold as the arctic breeze raced around me. Some of it found its way up my coat and a shiver raced down my spine. Gabriel buried his head in the back of my neck while the wind pulled at my ears. I felt the strain from his weight and thought about letting him down. He loved to ride on my back and I loved to carry him, but sometimes this old life makes even the joys hard to bear.
That is why I so love the book of 1 John. To be honest, my present life isn't all that bad, but when I think of the "eternal life" to come, this life seems like little more than a teaser. I can't wait! Are you going? Do you "know that you have eternal life"?
Keep It In Context
For assurance to be sure, we must let God speak for Himself. We must be true to the inspired context. After each study, read the entire chapter again taking note to the way today's verse relates to all the verses around it. Due to the colorful, complex nature of the original language, the best translation is multiple translations. Following each lesson, this chapter will be presented in a different translation. Below, we have featured the English Standard Version.
1 John 1
That which was from the beginning, which we have heard, which we have seen with our eyes, which we looked upon and have touched with our hands, concerning the word of life— the life was made manifest, and we have seen it, and testify to it and proclaim to you the eternal life, which was with the Father and was made manifest to us— that which we have seen and heard we proclaim also to you, so that you too may have fellowship with us; and indeed our fellowship is with the Father and with his Son Jesus Christ. And we are writing these things so that our joy may be complete.
This is the message we have heard from him and proclaim to you, that God is light, and in him is no darkness at all. If we say we have fellowship with him while we walk in darkness, we lie and do not practice the truth. But if we walk in the light, as he is in the light, we have fellowship with one another, and the blood of Jesus his Son cleanses us from all sin. If we say we have no sin, we deceive ourselves, and the truth is not in us. If we confess our sins, he is faithful and just to forgive us our sins and to cleanse us from all unrighteousness. If we say we have not sinned, we make him a liar, and his word is not in us.
To continue this study, go to:
"Fellowship With the Father and the Son: 1 John 1:3"
"Complete Joy: 1 John 1:4"
"God is Light: 1 John 1:5"
"Fellowship with Light: 1 John 1:6"
"Walk In or Out of the Light: 1 John 1:7"
"Formula for Assurance (Part 1): Honesty 1 John 1:8"
"Formula for Assurance (Part 2): Confession 1 John 1:9"
"Formula for Assurance (Part 3): Application 1 John 1:10"
"Blessed Assurance Review"

Missed the first two parts of this study? Check them out!
"Blessed Assurance: 1 John 1 Introduction" 
"Jesus - Word of Life: 1 John 1:1".
Back to Top of "Jesus - Eternal Life"
Back to The Church Page
Back to Home Page