Walk In or Out of the Light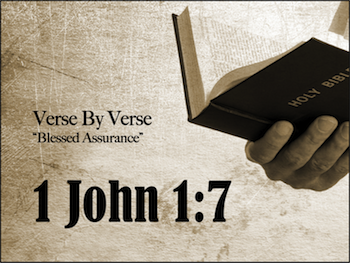 "But if we walk in the light, as he is in the light, we have fellowship with one another, and the blood of Jesus, his Son, purifies us from all sin."
Among the many key words contained within this verse, two in particular must be discussed at this point in our study - the words "walk" and "purifies."
Every Bible student should take note that John uses the word "walk" not the word step or even experience. To have fellowship with God and His Son (1:3), a person must journey in the light. 
Myths Exposed
John's description of walking in the light dispels two religious myths:
Myth 1: A simple encounter with God is enough to save. Salvation is a process, not a moment in time. Although the threshold of rebirth (John 3:5) can certainly be used to mark one's entrance onto the path of light, crossing that threshold is certainly not the entire process. One must remain in the light to remain in the state of salvation.
Myth 2: For some, the state of salvation is viewed as a permanent condition - "once saved always saved". They argue that if a person ever loses their salvation, they were, in fact, never saved to begin with. 
But notice again the words of this important verse. Notice how John paints a word picture suggesting that the walk and the purifying come as a package experience. While we "walk in the light," Christ purifies us from all sin."
So what happens if a person decides to leave the light? If their leaving means they never were saved to begin with, then it also means that "the blood of Jesus" was not working while they were in the light. How could a person be in the light without the blood working? According to 1 John 1:5-6, God cannot have fellowship with any darkness (evil). "God is light" (1:5) and anyone who journeys in that light must be saved or purified from "darkness." (1:6) 
Yes, a person can choose to walk outside the light and yes, in the process, they can also choose to forfeit their salvation. It was for that very reason that the Holy Spirit inspired so many warnings about the tragic decision to leave the light - Galatians 6:1, Philippians 2:12-13, Hebrews 2:1-3; 10:26-31, 2 Peter 2:17-22 and others.
The second key word from 1 John 1:7 is the word "purifies." Verses 5-6 tell us that in God "there is no darkness at all." In verse 8, John will tell us that "If we claim to be without sin, we deceive ourselves...." (1:8) In other words, "God is light" (1:5) but part of us is dark. 
Q: How is it possible for us to have fellowship with that perfect Light while being tainted by the imperfections of sin? 
A: Only by accepting God's offer to come into the light. When God became flesh, He lived a sinless life, died in our place and, through His perfection, solved the riddle. The Creator's perfect blood purifies us while we are on the journey. Through this ongoing cleansing, fellowship can be maintained and our salvation can be secure as long as we continue to "walk in the light." (1:7)
Dark Shadows
When Gabriel was very young he would occasionally decide to brush his teeth without notifying Cindy or me. By standing on his stool and lifting himself on to his tippy toes, Gabriel could almost reach the toothbrush cup without causing a chain reaction of destruction within the medicine cabinet. The key word is "almost." 
One day after causing quite a mess, I noticed that several of the toothbrushes had fallen into the dark shadows behind the sink. The thought of putting a toothbrush into my mouth that had spent a significant amount of time in the dark, nasty shadows behind the sink wasn't very appealing. The next morning, several toothbrushes found themselves in the trashcan rather than in their sanctified (set apart) place in the medicine cabinet. Their journey outside the light had cost them their place inside my fellowship.
But you are not a toothbrush! God wants all people to come to Him even if they have walked away and fallen into some very dark places. (1 Timothy 2:3-6) However, unlike a dirty toothbrush, you have the responsibility to choose whether or not you will come home. (Luke 15:11-32).
Keep It In Context
For assurance to be sure, we must let God speak for Himself. We must be true to the inspired context. After each study, read the entire chapter again taking note to the way today's verse relates to all the verses around it. Due to the colorful, complex nature of the original language, the best translation is multiple translations. Following each lesson, this chapter will be presented in a different translation. Below, we have featured the World English Bible.
 1 John 1 (WEB)

That which was from the beginning, that which we have heard, that which we have seen with our eyes, that which we saw, and our hands touched, concerning the Word of life (and the life was revealed, and we have seen, and testify, and declare to you the life, the eternal life, which was with the Father, and was revealed to us); that which we have seen and heard we declare to you, that you also may have fellowship with us. Yes, and our fellowship is with the Father, and with his Son, Jesus Christ. And we write these things to you, that our joy may be fulfilled.
This is the message which we have heard from him and announce to you, that God is light, and in him is no darkness at all. If we say that we have fellowship with him and walk in the darkness, we lie, and don't tell the truth. But if we walk in the light, as he is in the light, we have fellowship with one another, and the blood of Jesus Christ, his Son, cleanses us from all sin. If we say that we have no sin, we deceive ourselves, and the truth is not in us. If we confess our sins, he is faithful and righteous to forgive us the sins, and to cleanse us from all unrighteousness. If we say that we haven't sinned, we make him a liar, and his word is not in us.
To continue this study, go to:
"Formula for Assurance (Part 1): Honesty 1 John 1:8"
"Formula for Assurance (Part 2): Confession 1 John 1:9"
"Formula for Assurance (Part 3): Application 1 John 1:10"
"Blessed Assurance Review"

Missed the first seven parts of this study? Check them out! 
"Blessed Assurance: 1 John 1 Introduction" 
"Jesus - Word of Life: 1 John 1:1"
"Jesus - Eternal Life: 1 John 1:2"
"Fellowship With the Father and the Son: 1 John 1:3"
"Complete Joy: 1 John 1:4"
"God is Light: 1 John 1:5"
"Fellowship with Light: 1 John 1:6"
Back to Top of "Walk In or Out of the Light"
Back to The Church Page
Back to Home Page