Keep the Faith! Being a Follower 3a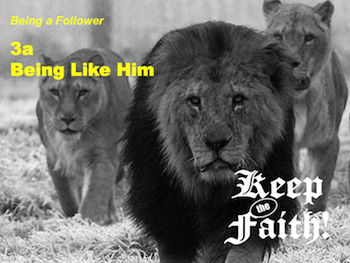 After self-examination ("in right") and fellowship ("out right"), the third area of growth while being a follower is worship ("up right"). For worship to be effective, you must become like Him, be in awe of Him and express your feelings for Him.
Reaching Up (Worship)
1. Being Like God
The little boy waited until his mother had left the room and then crept up beside the crib of his newborn sister. "Sissy," he said in a whisper, "tell me what God looks like. I've already started to forget."

The greatest form of flattery is being like the person you admire. The same flatters God. As your Father, He longs for you to grow up to be just like Him. 
So what is He like? Consider the following descriptions of God taken from the New Testament of your Bible.
Descriptions of God
"God is true." (John 3:33) - Titus 1:2 says that God cannot lie. Are you "as honest as the day is long"? Do you dabble in "half-truths" or "white lies"?
"God is Spirit, and those who worship Him must worship in spirit and truth." (John 4:24) - II Corinthians 3:18 says that the essence of the Christian experience is the joy of  "being transformed into the same image" as God. Although for the present time your eternal nature is trapped inside a mortal body, you are still called upon to think and act on a higher plane. Do you consider eternity before every decision or are you driven by instant gratification?
"God is faithful" (I Corinthians 1:9) - Like being true, God is also trustworthy. Are you faithful to God in your thoughts? Can your friends count on you to keep your commitments, even those that are implied but unspoken? Can your spiritual family depend upon you to be present at meeting times and enthusiastically involved in the work of the church?
"God is wiser than men" (I Corinthians 1:25) - To whom do you turn first when confused or making a decision? How much time each week do you spend reading the Bible, studying the Bible, or meditating upon God's will for your life?
"God is not the author of confusion but of peace" (I Corinthians 14:33) - Do you enjoy controversy? Are you drawn to religious services that seem to promote spiritual frenzies of emotion? God desires order. Is your life orderly and filled with peace?
"God is light and in Him is no darkness at all. If we say that we have fellowship with Him, and walk in darkness, we lie and do not practice the truth." (I John 1:5-6) - In Scripture, darkness is often the imagery used to describe a concealed lifestyle of sin. What skeletons do you have lurking in your closet? What masks of deception are you refusing to discard?
"God is love, and he who abides in love abides in God, and God in him." (I John 4:16) - Ultimately, the nature of God is best described by the word love. The respected scholar, W.E. Vines, wrote the following about this powerful little word; "Christian love... is not an impulse from the feelings, it does not always run with the natural inclinations, nor does it spend itself only upon those for whom some affinity is discovered. Love seeks the welfare of all (Romans 15:2) ... works no ill to any (Romans 13:8-10) ... seeks to do good to 'all men, and especially toward them that are of the household of the faith' (Galatians 6:10)."
In Romans 8:16 God said that, for Christians, "The Spirit Himself bears witness with our spirit that we are children of God..." Like the public announcement of a corporate merger, it is as if the Spirit of God stands side by side with your spirit and proclaims that you are the offspring of God. At conversion, the essence of God begins a life-long process of merging with your essence. For those who truly want to be like Him, this process will culminate with a new body that can forever be in His presence. Are you working on that merger?
Helpful Suggestions
James described Scripture as a mirror (James 1:22-25). When you read the Bible, think of it as going to a mirror that reveals your true nature. Like a child who grows up hoping to look just like his father, we should look into the eternal mirror and compare our features to that of God.

Make a list of the ways Christ acted and reacted in different situations. Keep the list in your Bible and regularly compare your own conduct to that of Jesus.
Since God is spirit, you should long to be totally in that form also. Set aside part of every day to think about the spirit realm and what it means to have that nature. Consider the spiritual limitations that are placed upon you because of your fleshly nature. How well are you doing in the battle to conquer the flesh and be transformed into the image of God?
Personal Assessment
Romans 8:16-17
"The Spirit Himself bears witness with our spirit that we are children of God, and if children, then heirs -- heirs of God and joint heirs with Christ, if indeed we suffer with Him, that we may also be glorified together."
In what way does the Spirit "bear witness" to our relationship with God?
According to this passage, what is the wonderful result of being a child of God? Define this term and discuss its implications in your life.
According to this passage, what is the condition we must be willing to fulfill in order to be a child of God? Have you ever done this?
Read and discuss I Peter 1:14-16. What does it mean to be holy?
Make a list of five other words that describe God. Do they describe you also?
Missed the beginning of the "Keep the Faith!" series? Check it out! 
Keep the Faith! Being an Observer

Also, don't forget the first six lessons in the "Being a Follower" section!
Keep the Faith! Being a Follower 1a: Study
                                                     1b: Prayer
                                                     1c: Meditation
                                                     2a: Attendance
                                                     2b: Involvement
                                                     2c: Belonging
Want to continue this study? Go to:
Keep the Faith! Being a Follower 3b: Being in Awe of Him
                                                     3c: Express Feelings for Him
                                                     4a: Being a Friend
                                                     4b: Being a Witness
                                                     4c: Providing a Message
Keep  the Faith! Being  a Leader  -  Introduction
                                                     1: Self-examination
                                                     2. Fellowship
                                                     3: Worship
                                                     4: Evangelism
                                                         Conclusion: Becoming a Complete Christian


Back to Top of "Keep the Faith! Being a Follower 3a"
Back to The Church Page
Back to Home Page