Keep the Faith! Being a Follower 4c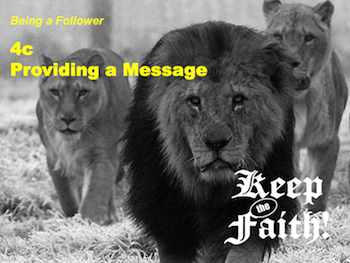 After self-examination ("in right"), fellowship ("out right"), and worship ("up right"), the fourth area of growth while being a follower is evangelism ("down right").
In order to effectively reach down to those who have not yet found a relationship with the Savior you must be a friend, share your witness, and have a message.
Reaching Down (Evangelism)
3. Evangelism with a Message
Below, you will find six important passages of Scripture about the journey to salvation. All of the passages are taken from the same book and are easy to understand. Memorize these verses and the questions below them. This very simple Bible study can be used by even the newest Christian to share the message of salvation with a friend.
Romans 3:23
"... for all have sinned and fall short of the glory of God."
How many people are included in the word "all?"
Have you sinned?
Romans 6:23
"For the wages of sin is death, but the gift of God is eternal life in Christ Jesus our Lord."
Death is the payment given for sinning. The word "death" in this passage means separation from God. Where do people go who are separated from God?
Since eternal life is a "gift," is there  any way to earn it or work hard enough to deserve it?
Why is it important to be "in Christ Jesus?"
Romans 5:8
"But God demonstrates his own love for us in this:  While we were still sinners, Christ died for us."
Since Christ died for us while we were still sinners, can we accept His forgiveness while still being sinners?
Some say, "I'll be saved as soon as I break a few of my bad habits." Is that doing things backwards according to this verse?
Romans 10:9
"That if you confess with your mouth, 'Jesus is Lord,' and believe in your heart that God raised him from the dead, you will be saved."
The word "Lord," in this passage, means master, ruler, or boss.  The word, "believe", means trusting and obeying. Continue reading to discover what kind of obedience God requires that your belief lead you into.
Have you accepted Jesus as your personal Lord, master, or boss?
Have you confessed this fact before men?
Do you believe that God raised Jesus from the dead?
Is belief without obedience pleasing to God?
Romans 2:4
"Or do you show contempt for the riches of his kindness, tolerance and patience, not realizing that God's kindness leads you towards repentance?"
The word "repentance" means to turn around.
Have you repented or turned away from your sins?
Are you trying to live a changed life?
Romans 6:3, 4
"Or don't you know that all of us who were baptized into Christ Jesus were baptized into his death?  We were therefore buried with him through baptism into death in order that, just as Christ was raised from the dead through the glory of the Father, we too may live a new life."
In this passage, we are told that baptism is the door that leads "into Christ." It is a very important step.  We also find that baptism is a duplication of the greatest event in history - the death, burial and resurrection of Jesus. Every time a person is baptized, he/she duplicates the very steps that Jesus went through to save us from sin. Baptism is like an instant replay of the greatest victory of all time - Jesus' defeat of Satan. Baptism is God's favorite instant replay and He loves to see it over and over again.
Can you get "into Christ" without being baptized?
The word "baptism," in this passage, means to immerse, surround, or cover over. We know this for many reasons, but perhaps the most obvious is that it is called a burial in verse four.
Is it really possible to bury a person in water if you only sprinkle or pour some water on their head?
According to verse four, does the "new life" come after the burial (baptism)?
Is baptism just an outward sign that you were saved at an earlier time?
If baptism is the step that washes away your sins and gives you a "new life," is it possible to be saved before baptism?
Have you been baptized (immersed in water) for the forgiveness of sins?
For the sake of your eternal soul, are you willing to do things God's way?
Be Ready to Give an Answer
The verses above, and their corresponding application questions, should be studied and memorized by every Christian. I Peter 3:15 says that you should "... always be ready to give a defense to everyone who asks you a reason for the hope that is in you...." Commit these important passages to memory. By so doing, you will always be ready to give a reason for the hope that you have in Christ Jesus.
Caution: The Bible's message must always be taken in its entirety. The list of Scriptures above is offered as an easy-to-remember guide and summary of God's plan for salvation. It is not, however, the entirety of Scripture and it should not be used as an excuse to pick and choose your favorite verses on this subject. Embrace all of God's Word and one day He will embrace you.
Helpful Suggestions for Memorizing the Message:
Regularly rehearse what you have memorized. 

Write it, say it, and put it in a place where you will regularly see it.
Learn to attach it to a mental picture.
Have it read to you over and over again.
Break it down into smaller parts that are more easily remembered.
Find a partner who will validate your progress.
Personal Assessment
Romans 10:14-15
"How then shall they call on Him in whom they have not believed? And how shall they believe in Him of whom they have not heard? And how shall they hear without a preacher? And how shall they preach unless they are sent? As it is written:
'How beautiful are the feet of those who preach the gospel of peace, Who bring glad tidings of good things!'
So then faith comes by hearing, and hearing by the word of God."
The passage above opens with four important questions about having a message. What is to be learned from the obvious answers to each of these questions?
How then shall they call on Him in whom they have not believed?
And how shall they believe in Him of whom they have not heard?
And how shall they hear without a preacher?
And how shall they preach unless they are sent?
What do the phrases "gospel of peace" and "glad tidings of good things" tell you about the way the message is to be presented?
Although your personal story is important, what does the last sentence in the passage above tell you about the importance of Scripture? 
Missed the beginning of the "Keep the Faith!" series? Check it out! 
Keep the Faith! Being an Observer

Also, don't forget the first eleven lessons in the "Being a Follower" section!
Keep the Faith! Being a Follower 1a: Study
                                                     1b: Prayer
                                                     1c: Meditation
                                                     2a: Attendance
                                                     2b: Involvement
                                                     2c: Belonging
                                                     3a: Being Like Him
                                                     3b: Being in Awe of God
                                                     3c: Express Feelings for Him
                                                     4a: Being a Friend
                                                     4b: Being a Witness
Want to continue this study? Go to:
Keep  the Faith! Being  a Leader  -  Introduction
                                                     1: Self-examination
                                                     2. Fellowship
                                                     3: Worship
                                                     4: Evangelist
                                                         Conclusion: Becoming a Complete Christian


Back to Top of "Keep the Faith! Being a Follower 4c"
Back to The Church Page
Back to Home Page