Keep the Faith! Being a Follower 1b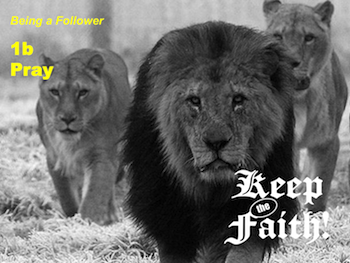 The second stage of spiritual development is learning to be a follower. As with the first stage (observer), we will build this material around the same four directions that are illustrated within the children's song, ("in right, out right, up right, down right"). 
The first goal of being a follower is learning how to reach in for self-examination. To do this, it is important that we not only learn how to study but also how to pray. 
Reaching In (Self-examination)
2. Pray
The little boy was sent to the corner and told to stand there until he could learn to be nicer to his little sister. Moments later, his mother passed by and heard him whisper, "A-B-C-D-E-F...." "Son what are you doing?" she asked. "Mom, you told me that I should pray but I just don't know what to say.  So, I decided to give God the whole alphabet and ask Him to make a good prayer out of it."
Sometimes little children can teach us the biggest lessons. Romans 8:26 says that the Holy Spirit helps us pray by making "intercession for us with groanings which cannot be uttered." (NKJV) Give God your heart and ask Him to make a good prayer of it.
In James 5:16-18 we find this promise and example, "The effective, fervent prayer of a righteous man avails much. Elijah was a man with a nature like ours, and he prayed earnestly that it would not rain; and it did not rain on the land for three years and six months. And he prayed again, and the heaven gave rain, and the earth produced its fruit." (NKJV) From these verses we learn that prayer must be "effective," "fervent," and "of a righteous man" in order for it to have great impact in Heaven.
"Effective" - Vines defines the text this way, "...the effect produced in the praying man, bringing him into line with the will of God, as in the case of Elijah." In other words, in order for your prayers to avail much, you must reach in and allow your prayer life to be part of a self-examination that brings you into line with the will of God. Prayer is just as much about surrender as it is about communication. 
"Fervent" - Vines defines this text as, "a supplication consistent with inward conformity to the mind of God." In other words, our prayers must be driven by a passion to have God's will accomplished in our lives not our own. Fervency is measured by your ability to say, "Not my will but Thine be done."
God wants to hear your requests and He wants you to know that your desires do effect His decisions. But, like a father who knows what is best for his children, God gives greatest consideration to the child who is in full surrender and has full faith in the father's ability to give what is best.
"Righteous man" - Perhaps the best definition for the word "righteous" is right living. In 1 Peter 3:10-12 the Holy Spirit said this about living righteously, "He who would love life and see good days, let him refrain his tongue from evil, and his lips from speaking deceit. Let him turn away from evil and do good; let him seek peace and pursue it. For the eyes of the LORD are on the righteous, and His ears are open to their prayers; But the face of the LORD is against those who do evil." (NKJV) According to this passage, a righteous man refrains from speaking evil and deceit, turns away from evil to do good, and seeks after peace. Are you doing these things?
Did you notice the next to last sentence from I Peter 3:12?  "...the eyes of the LORD are on the righteous, and His ears are open to their prayers." (NKJV) God is watching you. Like a father who wants to be His child's greatest hero, God wants to answer your every request with a yes.  Allow Him to do this.  Let your prayers draw you into line with His will.  Show Him your fervency by the measure of your surrender and invite His blessings by your obedient righteous life. "The effective, fervent prayer of a righteous man avails much." (James 5:16, NKJV)
Helpful Suggestions
Talk to God as if He was the most loving Father you could ever have, because He is.

Always acknowledge your mediator, Jesus. He is your Brother and, now that you are a Christian, He has given you special permission to use the great power and influence of His name.
Avoid canned phrases like "guide, guard, and direct us." Let God hear your heart.
Pray as if you can change God's mind, because you can.
God is most honored when you give Him the first fruits of your life. Start every day on your knees.
Prayer need not be spoken out loud. God hears your thoughts as easily as your words. Pray without ceasing.
Personal Assessment
Matthew 6:5-8 (NKJV)
"And when you pray, you shall not be like the hypocrites. For they love to pray standing in the synagogues and on the corners of the streets, that they may be seen by men. Assuredly, I say to you, they have their reward.  But you, when you pray, go into your room, and when you have shut your door, pray to your Father who is in the secret place; and your Father who sees in secret will reward you openly. And when you pray, do not use vain repetitions as the heathen do. For they think that they will be heard for their many words. Therefore do not be like them. For your Father knows the things you have need of before you ask Him."
Define the word "hypocrite."  Name three things that can make prayer hypocritical.
What are three of the benefits from praying in secret?
List three examples of canned phrases often used in prayers.
If God knows what we need before we ask Him, why do we pray?
Read and meditate on the application of Luke 18:10-14.
Next time we will look at the third area of self-examination, meditation. Until then, keep the faith!
Missed the beginning of the "Keep the Faith!" series? Check it out! 
Keep the Faith! Being an Observer

Also, don't forget the first lesson in the "Being a Follower" section!
Keep the Faith! Being a Follower 1a: Study
Want to continue this study? Go to:
Keep the Faith! Being a Follower 1c: Meditate
                                                     2a: Attendance
                                                     2b: Involvement
                                                     2c: Belonging
                                                     3a: Being Like Him
                                                     3b: Being in Awe of Him
                                                     3c: Express Feelings for Him
                                                     4a: Being a Friend
                                                     4b: Being a Witness
                                                     4c: Providing a Message
Keep  the Faith! Being  a Leader  -  Introduction
                                                     1: Self-examination
                                                     2. Fellowship
                                                     3: Worship
                                                     4: Evangelism
                                                         Conclusion: Becoming a Complete Christian


Back to Top of "Keep the Faith! Being a Follower 1b"
Back to The Church Page
Back to Home Page