Keep the Faith! Being a Follower 4b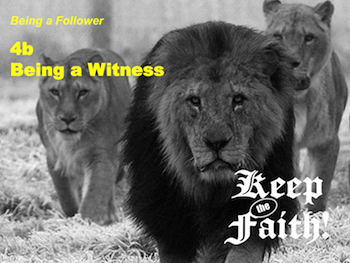 After self-examination ("in right"), fellowship ("out right"), and worship ("up right"), the fourth area of growth while being a follower is evangelism ("down right").
In order to effectively reach down to those who have not yet found a relationship with the Savior you must be a friend, share your witness, and have a message.
Reaching Down (Evangelism)
2. Evangelism as a Witness
A failed relationship left the king angry and bitter toward all women. Each night he selected one young virgin from his kingdom, married her, slept with her and then had her executed the following morning. Weeks into this horrible cycle, a beautiful young maiden was selected to marry the king, but unlike the others she had a plan.
Following the wedding, the couple retired to the king's chambers and the maiden saw how deeply troubled her new husband really was. Long after midnight, the king was still restless and had great difficulty falling asleep. "May I tell you a story?" the maiden asked. "Yes, yes, anything to help me sleep!" he responded and so she began. Long into the morning hours, she spun a tale of riches and thieves and heroic deeds by princes and kings. As the sun broke over the horizon, the tale was yet unfinished. Captivated by the adventure, the king could not bear to miss the end of the tale. His kingly duties were calling and the guards had come to take the maiden away for execution. The king stopped the men and told his wife, "Tonight you must finish this story." 
As you have already guessed, each night the tale grew more suspenseful and each morning the king postponed the execution. Weeks passed and the king's heart was calmed. As he listened to the stories, he also fell deeply in love with the storyteller. She won his heart and saved his kingdom all by the power of story.  
Will You Tell Your Story?
Do you have a story to tell? Can you tell it effectively? 
In I John 5:10-11 (NKJV) we find these words, "He who believes in the Son of God has the witness in himself; he who does not believe God has made Him a liar, because he has not believed the testimony that God has given of His Son. And this is the testimony: that God has given us eternal life, and this life is in His Son." 
Every believer is called to be a witness. We witness to the power of God working within our lives. Matthew Henry's Commentary says this about the verse above, "[A believer] hath not only the outward evidence that others have, but he hath in his own heart a testimony for Jesus Christ. He can allege what Christ and the truth of Christ have done for his soul and what he has seen and found in him." 
Every Christian should have a story to tell. Your personal story about the way God has changed your life is the most powerful tool you can use to show the attractive nature of God's plan. You cannot be a witness of the actual death, burial and resurrection of Jesus, but you can certainly be a witness of the powerful ways these events have changed your life. 
Before concluding, you should know that the stories told by the young maiden are stories that are still being told today. Her classic tales have been translated into more languages than any other book in history except the Bible. You have read her stories and you have seen movies made about them.  "Sinbad the Sailor," "Ali Baba and the Forty Thieves," "Aladdin and the Magic Lamp," heroic stories that calmed a heart and saved a kingdom.  
You too can calm a troubled heart. You too can soothe a tortured soul. Your story can change the life of a friend. Will you tell your story? 
Helpful Suggestions for Being a Witness
Keep a journal of all the ways that God has clearly moved in your life. Include answered prayers, opened and closed doors of opportunity, and special moments of peace that you have found in spite of the storms of life. Review this list often and be prepared to share it as you draw your friends closer to God. 
Pray for God to show Himself more clearly in your life. Caution: This request is often answered by events that will build your faith. Be sure to also ask God for the strength and wisdom to appreciate these events. 
A witness is only as good as his testimony is believable. Be sure that all areas of your life are consistent with the testimony you are offering. 

Personal Assessment
1 Peter 3:15-16 (NKJV) 
"But sanctify the Lord God in your hearts, and always be ready to give a defense to everyone who asks you a reason for the hope that is in you, with meekness and fear; having a good conscience, that when they defame you as evildoers, those who revile your good conduct in Christ may be ashamed." 
Beside each of the following phrases from this passage above, write the evangelism principle it teaches. 
"always be ready to give a defense" 
"a reason for the hope that is in you" 
"with meekness and fear" 
"having a good conscience" 
"your good conduct in Christ" 
Make a list of 3 evangelistic opportunities that often come to a witness (Example: questions about the existence of God) and how you might use that opportunity to draw a person toward God.
Missed the beginning of the "Keep the Faith!" series? Check it out! 
Keep the Faith! Being an Observer

Also, don't forget the first ten lessons in the "Being a Follower" section!
Keep the Faith! Being a Follower 1a: Study
                                                     1b: Prayer
                                                     1c: Meditation
                                                     2a: Attendance
                                                     2b: Involvement
                                                     2c: Belonging
                                                     3a: Being Like Him
                                                     3b: Being in Awe of God
                                                     3c: Express Feelings for Him
                                                     4a: Being a Friend
Want to continue this study? Go to:
Keep the Faith! Being a Follower 4c: Providing a Message
Keep  the Faith! Being  a Leader  -  Introduction
                                                     1: Self-examination
                                                     2. Fellowship
                                                     3: Worship
                                                     4: Evangelism
                                                         Conclusion: Becoming a Complete Christian


Back to Top of "Keep the Faith! Being a Follower 4b"
Back to The Church Page
Back to Home Page